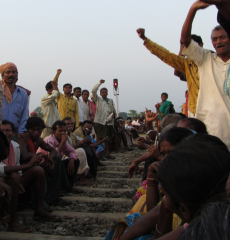 The Saving Iceland collective is happy to point its readers to the
newly established website of Foil Vedanta
, an independent campaigning organization focused primarily on the British-Indian mining giant Vedanta Resources PLC. Explaining the campaign, Foil Vedanta, says on its website that " Vedanta is headed by Britain's seventeenth richest billionaire, Anil Agarwal, and was launched on the London Stock Exchange in 2006 with the assistance of the UK's Department for International Development and Department of Trade and Industry, who continue with their support. Vedanta is a major producer of aluminum, a strategically important metal for the UK's huge arms industry." And continues:
Vedanta has mines, refineries and factories in various states in India – including Orissa, Chhattisgarh and Goa – as well as in Zambia. In Orissa Vedanta hopes to mine the mineral-rich Niyamgiri mountain. This would destroy the lives and livelihoods of the Adivasi (aboriginal) Dongria Kond people who live in the region. Despite the Indian Ministry of Environment repealing permission to mine Niyamgiri in 2010, Vedanta continues to push for the project, which if successful would be an act of cultural genocide.

Vedanta has been exposed for corruption and illegal land acquisition in the city of Puri, where it attempted to build a 9000 acre corporate University with the $1 billion sponsorship of Anil Agarwal. In Goa it's mining operations have caused massive pollution. Today Vedanta, helped by the Indian Government, also has it's eyes on oil extraction in Greenland and Sri Lanka.
Also, don't forget about the protest outside Vedanta's Annual General Meeting, coming up in London on June 27th. Read Saving Iceland's most recent news and articles concerning Vedanta here below:
– Fundamental Questions About Modern Civilization Itself – Arundhati Roy on "Broken Republic"
– Red Mud Spill and People's Resistance at Niyamgiri: A First Hand Report From the Struggle
– Press Release on Red Mud Pollution by Vedanta PLC
– People Can't be Made to Bathe in Red Mud