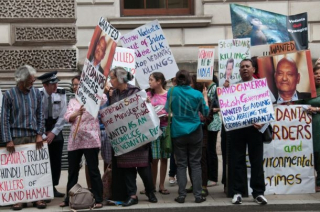 Call for protest at the Vedanta AGM (Annual General Meeting) 2011, 3pm on 27th July, Queen Elizabeth II conference centre, London, SW1P 3EE.
Please join us for the 7th annual protest outside the AGM of Vedanta Resources, the now infamous UK registered Indian mining company who have this year been exposed by the Indian government for serial environmental and human rights violations. We stand in solidarity with the Dongria Kondh and other inhabitants of Niyamgiri and Lanjigargh who have lost land, health and livelihood to Vedanta's refinery, and faced repression and struggle in fighting Vedanta's plans for a 73 million tonne bauxite mine and a six fold increase in the refinery's capacity. We oppose Vedanta's attempted take-over of British Oil company Cairn Energy who plan to drill in Greenland and Sri Lanka.
In 2010, protests outside Vedanta's AGM made headlines as protesters on the outside shouted slogans targeting CEO ad majority shareholder Anil Agarwal for the 'blood on his hands', as well as David Cameron who was in India promoting joint UK-Indian business ventures at the time. Meanwhile activist shareholders held Vedanta to account inside the AGM, and key investors Aviva threatened to pull out due to the company's 'disdain' for OECD environmental law. One month later the Indian government's Saxena Report damned Vedanta for violations of tribal rights and environmental law at the Niyamgiri hills. Vedanta is also being investigated by the Indian government's Lok Pal anti-corruption ombudsman for massive corruption over the illegal acquisition of 3000 acres of land for a 'Vedanta University' in Puri, Orissa.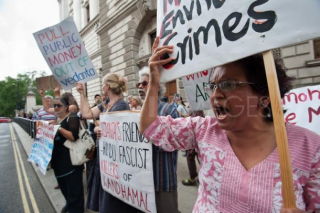 This year we are celebrating the prevention of the illegal Vedanta University project and the denial of their right to mine tribal land at Niyamgiri without permission. However, the fight is far from over. We are calling on the British and Indian governments to put Anil Agarwal on trial for these violations, and drawing attention to the company's continued attempts to get Niyamgiri via the Orissa state government. Please join us and raise your voices in solidarity with Indian communities who will be watching us and feeling our support.
The enclosed photos show the protest at Vedanta's 2010 AGM.
Contact savingiceland@riseup.net for more details.
____________________________________________________________________
Recent relevant articles:

Red Mud Spill and People's Resistance at Niyamgiri – A First Hand Report from the Struggle
Press Release on Red Mud Pollution by Vedanta
Victory in India: The Tribes of Orissa Conquer British Mining Giant Vedanta
From 2009: Join us at Vedanta Sterlite AGM – 27th July London
____________________________________________________________________
Please see coverage of last year's AGM here (from the London Mining Network website):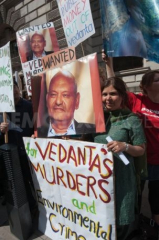 Protesters descend on FTSE 100 mining group's AGM – but chief executive describes criticism as 'lies'
Vedanta Resources' highly successful financial year, and its annual meeting, were overshadowed yesterday when more than 100 protesters, some dressed as characters from James Cameron's Avatar film, came to object to what they say is the company's shocking human rights and environmental record.
Police stopped protesters storming the meeting, as pressure groups and celebrities lined up to attack the mining group's record over its treatment of the Dongria Kondh tribe, which, they claim, will be devastated if Vedanta's planned bauxite mine in India's Orissa state goes ahead.
Read the full story here.
Vedanta meeting held up by difficult question
Activist shareholder challenge Vedanta's Chief Operating Officer at Lanjigarh on the sacred status of Niyamgiri to its tribal inhabitants and causes an embarrassing and revealing silence when the 'expert' cannot answer.
Read the full story here.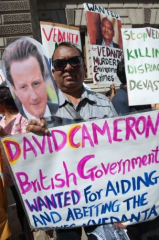 Vedanta meeting disrupted by demonstration
Accusing the Vedanta mining company of destroying the Niyamgiri mountain worshipped by indigenous Dongria tribes of Orissa, around 250 supporters of a campaign group 'Foil Vedanta' held a vociferous demonstration during its annual general meeting here. The demonstrators last evening carried placards saying 'Anil Agarwal, Blood on Your hands', 'Who killed Arsi Majhi? Vedanta, Vedanta'. They claimed that Agarwal, Chairman of Vedanta, was a "Wanted Criminal".
Read the full story here.
Anti-mining protesters ambushed Vedanta's AGM
New Delhi, Lanjigarh- For the fourth year in a row, anti-mining protesters ambushed the Annual General Meeting (AGM) of Vedanta Resources, a London-based FTSE 100-listed company. The AGM was held in London on Wednesday evening. While in the last three years, Dongria Kondh (tribals from Orissa) representatives protested against the mining of their sacred hill in the state, on Wednesday it were blockbuster Avatar's aliens, Na'vi, and fashion icon Bianca Jagger.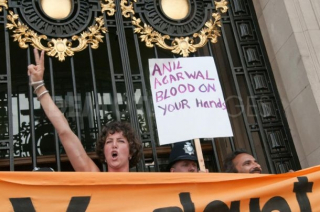 At the heart of this cross-continental row is the bauxite-rich Niyamgiri hill in the Lanjigarh area of dirt-poor Kalahandi district. While Anil Agarwal-promoted Vedanta Resources wants to mine the hill through its subsidiary companies for its aluminum refinery in Lanjigarh, located 500 km southwest of Bhubaneshwar, and "develop the backward area," tribals and activists feel that it will displace thousands and leave them without any livelihood opportunities.
Read the full story here.
Channel 4 News Wednesday 28 July
Watch 4 minutes into this clip for coverage of protests against Vedanta at the annual meeting in London: