Oct 12 2010
3 Comments
The residents described « a mini-tsunami ». A toxic one.
Last Monday, the red mud reservoir of an alumina plant ruptured in Hungary, near Ajka, 165km west of Budapest. As a result, 1.1 million cubic meters of red mud wiped out several villages through waves more than 2 meters high. It flooded 40 square kilometers of land, including affluents of the Danube, then reached one of Europe's longest river on Thursday morning. So far, 7 people have been killed, 1 is still missing, and more than 150 have been injured, mostly by chemical burns. The death toll is still expected to rise.
As we write these lines, surrounding villages are being evacuated as the structure threatens to break in another point, which would result in another 500 000 cubic meters flooding the area.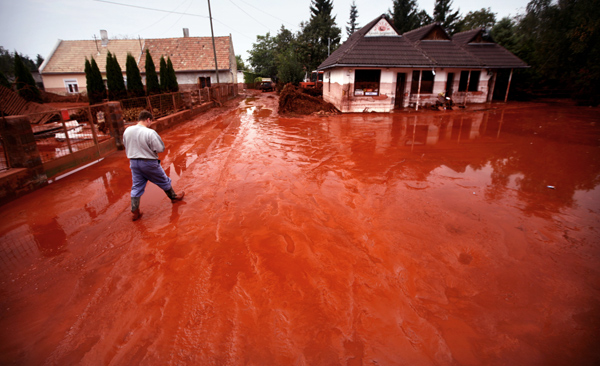 The disastrous chemical accident has been declared Hungary's largest and most dangerous environmental catastrophe, exceeding by far the 130000 cubic meters of cyanide-tainted water that spilled in 2000 in Baia Mare, Romania. Ten years later, traces of cyanide are still found in the area. It is worth noting that this cyanide was in a liquid form, therefore very quickly carried aways by the river whereas the thick red mud will sit there for years, sipping into the ground and reaching ground waters.
Read More