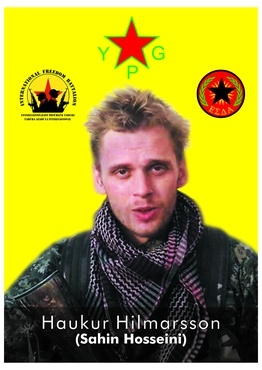 Saving Iceland has received this from Athens, Greece:
On Sunday 18/3/2018 at 16.00 a memorial will take place in the squatted community of Prosfygika in Athens in honor of our comrade, internationalist martyr of the liberation of Al Raqqa and of the resistance in Afrin, Haukur Hilmarsson-Spark (Sahin Hosseini). Comrade Spark, born on July 22nd 1986, from Reykjavik, Iceland, and whom we got to know as part of our community and the assembly of Occupied Prosfygika of L. Alexandras, stayed with us for about one year before travelling to offer his solidarity to the revolution in Rojava. He was housed and worked in the structures of the community and he was intergrated in the community and assembly of occupied Prosfygika. He offered his help generously wherever it was needed, he got involved in every struggle that arose and he left to travel to Rojava as a comrade and fellow fighter.
Words are superfluous. The deeds and the example of every person are their only true legacy and eulogy.
The squatted neighborhood of Prosfygika says goodbye to one of its people, an active part of our community. From our hub of struggle, we send our condolences to his relatives and rest of his comrades, throughout the world, and at the same time a message of solidarity with the revolution in Rojava and the resistance in Afrin.
HONOR FOREVER TO ANARCHIST INTERNATIONALIST SOCIAL FIGHTER HAUKUR
HILMARSSON—SPARK (SAHIN HOSSEINI)
SOLIDARITY WITH THE REVOLUTION IN ROJAVA AND THE RESISTANCE IN AFRIN
MARTYRS ARE IMMORTAL