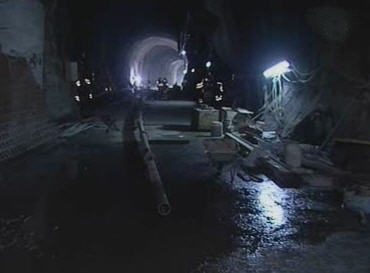 UPDATE
24 April 2007
Around 180 subterranean workers have become ill from pollution at Karahnjukar and work in 14 km of the tunnels has been stopped by the Icelandic Health and Safety authorities.
High time that the Health and Safety finally did the work they are paid for!
Already in 2005 persistent reports started emerging from Icelandic workers that workers were being forced back into the tunnels by Impregilo way too soon after explosives had been used in them. This breaks all safety regulations.
Apparently Icelandic workers usually refused to go back in until it was relatively safe, but foreign workers had no choice and somtimes had to be carried unconcious back out of the tunnels because of the poisonous air.
Health and safety are now trying to hide behind a 'lack of legislation in Iceland for this sort of tunnel work'.
The reluctance of the Icelandic unions and health and safety authorities to protect foreign workers at Karahnjukar suggests that there is something seriously rotten in more than one place in Icelandic society.
It seems appropriate now that there be more coverage in Icelandic media about the payments which Impregilo offered in 2003 to deposit in Icelandic union funds!
Exactly which unions received these payments from Impregilo?
————————————————-
Iceland Review
04/23/2007
Forty workers at Kárahnjúkar dam in Iceland's eastern highlands suffered from diarrhea and vomiting on Friday after having consumed food and drink from open containers inside the tunnels where they were working.
According to Helga Hreinsdóttir, the managing director of East Iceland's Public Heath Authority, there is a lack of cleanliness in the tunnels, Fréttabladid reports.
Hreinsdóttir explained the workers cannot wash their hands before they eat and that they serve themselves onto paper plates from open containers.
Hreinsdóttir said she had requested improvements, including that the food be delivered to the workers in the tunnels in pre-packaged portions.
A Portuguese worker who returned home from Kárahnjúkar yesterday told Fréttabladid about his experience inside the tunnels.
He said the workers had been deep underground for 12 hours on Thursday without food and drink. He also said they had licked the tunnel's walls for water.
When food and drink arrived the workers dipped their cups into an open container of apple juice, but could not wash their hands first, the Portuguese worker explained.
Thorvaldur P. Hjardar, assistant district director of East Iceland's Work Supervision Authority, told Fréttabladid he would visit Kárahnjúkar dam today to investigate the working conditions.
Hjardar said there is no problem with the workers being underground for more than ten hours as long as they have proper eating and lavatory facilities and can wash their hands.