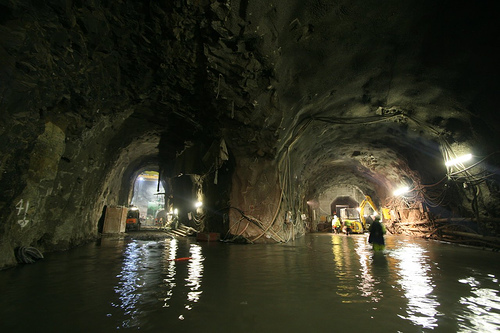 Saving Iceland
7 November 2007
Only two days after the glorious inauguration of the turbines at Kárahnjúkar dam, further structural problems are already emerging.
Icelandic paper Morgunbladid revealed today that severe leakages in the tunnels leading to the turbines are releasing 200 litres of water per second onto the ground surface, forming a swamp currently about a third of a hectare in size. When asked to comment on the situation, Kárahnjúkarvirkjun spokesperson Sigurdur Arnalds said the water loss was of no consequence.
Regardless of whether or not we should believe Arnalds, the revelation that tunnel water is reaching the ground water breaches one of Siv Fridleifsdottir's [ex-Minister of Environment who pushed through the project] fundamental stipulations (no. 14):
That Kárahnjúkarvirkjun should NOT interfere with ground water levels.
This stipulation was based on the warnings of scientists that changing ground water levels would have serious consequences for the remaining vegetation.
Another great danger is that the chemicals which the tunnels have been insulated with are now leaking onto the ground surface, poisoning the Eastern Highlands.
We demand to know, as Kolbrún Halldórsdóttir of the Left-Green Party asked Fridleifsdottir in Parliament in 2004 and was only given evasive answers to; exactly what chemicals were used to cut and seal these tunnels which are now being leaked into the groundsurface?
Furthermore, fertilizer and diesel, the main ingredients of cheap explosives (highly toxic), have been spilled into the highlands ground water system throughout the building process. We have plenty of film footage evidence that shows that diesel and fertilizer have been used liberally as explosives at Kárahnjúkar.
This is the latest in a string of ecological catastrophes that were predicted before the construction of ALCOA's Kárahnjúkar dams that have come true, revealing how much Iceland's nature killers either had no idea of what they were doing or how much they thought they were beyond the laws of nature and science. Recently Grimur Bjornsson's and the late Gudmundur Sigvaldason's and others predictions that the Hálslón reservoir would create seismic activity has come true, threatening to destroy a third river, the Jökulsá a Fjöllum, and Europe's most powerful waterfall, Dettifoss, amongst many other stunning natural wonders of the north.
How many more times are the heavy industrialists going to have to be proved wrong at the expense of this island's wilderness and economy before their future projects are scrapped and they be made to face a tribunal for their corrupt historic destruction?
Let us not forget the ancient 'Sayings of the High One' in the Poetic Edda, "The honor and shame of mens deeds will be remembered forever."