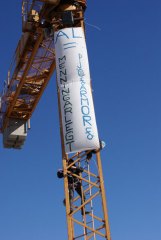 HELGUVIK (ICELAND) – Early this morning activists from over 10 countries occupied the construction site where California-based Century Aluminum are constructing a new aluminium smelter, and chained themselves to machinery. The protest by the campaign Saving Iceland is aimed at damage to geothermal areas in southwest Iceland and Century's environmental and human rights abuses in Jamaica and Africa.
As well as Century, other aluminium corporations ALCOA and Rio Tinto-Alcan want to construct new smelters. This would require exploitation of all the geothermal areas in the country, as well as damming all major glacial rivers (1).
Impact assessment: 'pollution will just blow away'
The construction of Century's Helguvík plant depends on the expansion of geothermal power plants east of Reykjavik (Hellisheiði) and on the Reykjanes peninsula southwest of Reykjavik (2). Construction of the smelter began in June, without a valid environmental impact assessment. There is also no guarantee of sufficient energy (435 MW) for the smelter (3).
The environmental impact assessment for the Helguvik smelter was produced by the construction engineers HRV, who have designed smelters for ALCOA and Century (4).
'Just as with the Alcoa smelter that has just been built in the East, the government shows no interest in following the the legal process for these huge projects. Instead, they act as if the smelter and power projects are inevitable, creating mass apathy. At the same time, Century's human rights abuse record have largely gone unnoticed,' says Ulfhildarson.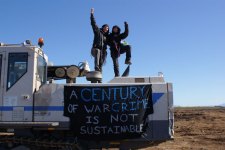 Environmental and human rights issues
Century Aluminum is a public corporation based in the US but who's main owner is the recently formed Swiss-Russian conglomerate Glencore-RUSAL. It is involved in a number of projects in Africa and the Caribbean which are contended by environmental and human rights campaigners.
In Jamaica, Century jointly owns a 4.8 million tonne bauxite mine. The mining has resulted large-scale destruction of rainforest in the area (5,6,7,8) (also see a number of videos on this issue). Century are also involved in a joint venture to open up a second mine and alumina refinery with Chinese Minmetals, who are associated with prison labour factories and gross human rights abuses in China and elsewhere (9).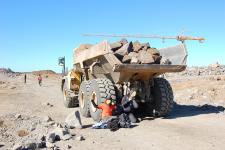 In February 2007, Century Aluminum signed a memorandum of understanding with the Republic of the Congo for the exclusive right to develop a smelter, an alumina refinery and a bauxite mine with a minimum commitment of 500 megawatts of gas-generated electrical energy in Pointe Noire.(10)
'It's very unlikely the poor will have any benefit from this development but they will pay the price of the environmental impact. Oil revenue in the country has never reached them, why would it be different for bauxite? Transparency International rated the ROC as one of the most corrupt regimes in the world. Exactly the kind of regimes aluminium corporations like to deal with…', says Ulfhildarson. (11)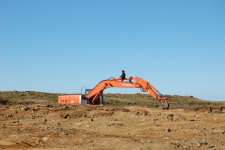 Protest Camp
Saving Iceland was started by Icelandic environmentalists asking for help to protest the Icelandic wilderness, the largest remaining in Europe, from heavy industry. This year, the fourth action camp to protect Icelandic nature has been set up near the Hellisheidi geothermal plant.
Last year, people from Brazil, Trinidad and South Africa came to Iceland to share their experiences with heavy industry in their countries, and this year the Indian aluminium expert and writer Samarendra Das will be joining the campaign.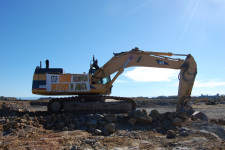 'The financial scams orchestrated by aluminium companies have created economic and environmental ruin in many countries, dramatically affecting the lives of thousands of their citizens. In each case, a sustained and costly PR campaign promising a new age of prosperity preceded this construction.' Indian scientist, Das explains (12). Das will be giving a number of talks in Iceland in July, including a conference with Icelandic author Andi Snær Magnusson on the 23rd at Reykjavik Acamemia (13).
More information
https://www.savingiceland.org
savingiceland@riseup.net
Jaap Krater
Snorri Páll Jónsson Úlfhildarson
Miriam Rose
1) For more details and an overview of projects in Iceland, see: https://www.savingiceland.org/?page_id=23.
For recent developments, see: https://www.savingiceland.org/?p=1923
(2) Landvernd report, Nóvember 2007, 'Athugasemdir vegna umhverfisáhrifa orkuöflunar fyrir álver í Helguvík, sbr. frummatsskýrslur Orkuveitu Reykjavíkur fyrir Bitruvirkjun og virkjun við Hverahlíð.'
(3) In the table below, the planning agency details that the 435 MW required for the smelter will come from a number of geothermal sites in Reykjanes and Hellisheiði. However, one of the planned plants, Bitravirkjun, has been put on hold because the environmental impact was deemed unacceptable. The energy-generating potential of the Reykjanes projects is uncertain and the environmental impacts have not been tested. In 2007, 60% of required energy had been found (see note 1). This was before Bitravirkjun was suspended.

For more information on the lack of proper Environmental Impact Assessment see: The Ecologist, October 2007,' Aluminium Tyrants' by Jaap Krater, Miriam Rose and Mark Anslow.
(5) Century Aluminum website. http://www.centuryca.com/st_ann.html
(6) Zadie Neufville, April 6, 2001, 'Bauxite Mining Blamed for Deforestation'. See http://forests.org/archive/samerica/bauxmini.htm.
(7) Mines and Communities report,'Bauxite Mine Fight Looms in Jamaica's Cockpit Country', 24th October 2006 at http://www.minesandcommunities.org/article.php?a=6513.
(8) 'Century Aluminum in Jamaica mining deal', Monday, May 15, 2006, Silicon Valley / San Jose Business Journal.
(9) In 2004 Minmetals attempted a takeover of Canadian mining company Noranda but were declined in 2005 due to serious concerns over human rights abuses by the Chinese company. This report details Minmetal's association to forced labour.
Source: Aaron A. Dhir, 'Of Takeovers, Foreign Investment and Human Rights: Unpacking the Noranda-Minmetals Conundrum', Banking & Finance Law Review, Vol. 22, pp. 77-104, 2006.
(10) http://sec.edgar-online.com/2007/03/01/ … tion11.asp
and http://www.afriquenligne.fr/news/africa … 83302.html
(11) Transparency International (2006). Corruption Perceptions Index 2006. Transparency International, Berlin.
(12) Samarendra Das, 'Mining sacred mountains to fuel the war on terror'. June 2008. See https://www.savingiceland.org/wp-content/uploads/2008/07/2008voicesofthewilderness2lowres.pdf
(13) On Wednesday July 23, 19.30 h. Saving Iceland will hold a conference with the Indian writer, scientist and aluminium expert Samarendra Das and 'Dreamland' author Andri Snær Magnusson, on the influence of the aluminium industry in the third world. Also, the concept of aluminium as a 'green' product will be examined. The evening is organised jointly with Futureland. It will take place at the Reykjavikurakademian house on Hringbraut 121.