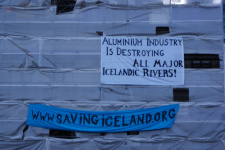 Today we received a letter from Denmark:
This morning, big banners were hanged on a building in Copenhagen saying: ,,Aluminium Industry is destroying all major Icelandic rivers!" A big advertisment from Icelandair Airline Company, showing Icelandic rivers, was hanging on this same wall last week.

The construction of the planned new Century aluminium smelter in Helguvík and Alcoa's smelter in Húsavík, will lead to damming of more glacial rivers and geothermal areas. Today it looks like dams will be built in Þjórsá River, Tungnaá, Skjálfandafljót and Jökulsá á Fjöllum; only for further heavy industry projects.

To supply energy for Alcoa's 346 thousand tons smelter in Húsavík, a reservoir bigger than the infamous Hálslón in Kárahnjúkar will be needed; 72 km2 (1).

There is no reason for feeding companies like Alcoa with more cheap energy. Alcoa is a arms producer, directly working with the American army, the weapon producer Lockheed Martin and other mean companies (2).

Alcoa is also well known for it's human right crimes in the company's factories in Honduras and Guatemala. In Honduras workers often have to urinate and defecate in their clothes because they are not allowed to go to the toilet more than two times a day; women have to take down their pants to prove they are having period; and workers who plan to form unions get fired. These are just few examples (3).

Icelandic nature and society are in danger!

No more Dams! No more Smelters!
(1) Jaap Krater, Morgunblaðið, Bakki Impact Assessment Should Include Dams, 22. Ágúst 2008.
(2) Snorri Páll Jónsson Úlfhildarson, Morgunblaðið, Lygar og Útúrsnúningar, 24. Júní 2008.
(3) National Labor Committee with Community Comunication Honduras (2007). The Walmart-ization of Alcoa. http://www.nlcnet.org/article.php?id=447.