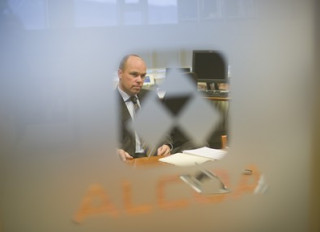 After a six years process Alcoa in Iceland has withdrawn its plans to build a 250 thousand ton aluminium smelter in Bakki, near Húsavík in the North of Iceland. It is now clear, according to the company, that the energy needed to run the proposed smelter will not be provided and, even if it could be provided, the company finds the price too high. Tómas Már Sigurðsson, the director of Alcoa in Iceland, announced this yesterday on a meeting in Húsavík, marking a milestone in the struggle against the aluminium industry's further development in Iceland.
As from 2005 Alcoa, along with national energy company Landsvirkjun, Húsavík's authorities and – to begin with – the Icelandic authorities, has been working on the project, which would have required at least 400 MW of energy, produced by harnessing geothermal areas and glacial rivers in the North. In 2008 a Memorandum of Understanding (MOU) between Landsvirkjun and Alcoa expired, and a year later the same happened concerning a MOU between the aluminium producer and the Icelandic government, the latter not willing to renew it.
Since then Landsvirkjun has signed a few other MOUs, regarding geothermal energy commerce, with possible buyers such as data centres and silicon factories, in some ways meeting with a popular demand for less destructive and more "green" use of the geothermal energy. Regardless of what one finds about the alleged "greenness" of such enterprises this development has inevitably raised the question if Landsvirkjun would be able to feed both Alcoa's planned smelter and at the same time these smaller, less energy intensive factories.
Environmentalists have warned of the over-exploitation of geothermal energy. In fact, as early as in 2008, when Landsvirkjun's official plan still seemed to include only Alcoa's smelter, Saving Iceland insisted that the damming of one or more of the glacial rivers in the North was crucial if Landsvirkjun was to provide energy for a the smelter. At that time Alcoa had already stated that a 250 thousand ton smelter would be "unsustainable" and that the company would want to build at least a 346 thousand ton smelter in Bakki. For a smelter of that size 400 MW would have been needed in addition to the already planned 400.
In 2008 Þórunn Sveinbjarnardóttir, then Minister of Environment, ruled that the project needed to undergo a joint Environmental Impact Assessment (EIA), taking into account not only the impacts of the smelter per se but the whole infrastructure around it, including the power plants and energy transportation. The company's response, as well of others in favor of the smelter, was that the minister's ruling was a political attack against the project, only meant to delay the process.
The first draft of the joint EIA report was ready in the spring 2010 and a few months later Iceland's National Planning Agency published its comments on it. The Planning Agency's comments were damming, stating that the projects impacts would be high and could not be mitigated; its greenhouse gas emissions would constitute 14% of Iceland's total and 17,000 ha of pristine wilderness would be affected. Most importantly, as pointed out by Jaap Krater, ecologial economist and spokesperson of Saving Iceland, the Agency highlighted the "uncertainty on the full impact of the planned power plants and particularly on how much geothermal energy can be sustainably produced. Finally, the assessed energy projects will not be able to fully power the smelter, with 140 MW of capacity missing."
This energy crisis – similar to the one Century Aluminum is facing, regarding geothermal energy for their planned smelter in Helguví, South of Iceland – is no doubt the main factor leading to Alcoa's withdrawal, though the company and other interested parties blame the joint EIA and the current government's energy policy. As mentioned before this has been clear for a long time – in January this year business newspaper Viðskiptablaðið reported that Alcoa was about to withdraw from the Bakki project due to energy uncertainties. The final straw, according to the paper's sources, was Landsvirkjun's discussions with a company called Carbon Recycling, which plans to build a methanol plant run on geothermal energy from the North. This was, however, rejected by the company only a week later. Alcoa said that the smelter was still on their drawing table and that a permit for at least 500 MW of geothermal energy existed.
Though Alcoa's representatives, as well as Húsavík's authorities and other parties favouring heavy industry, have since yesterday acted as Alcoa's withdrawal is somewhat of a shocking news, Katrín Júlíusdóttir, Minister of Industry, says that it is of no surprise to her. Alcoa has, according to Katrín, had a head start on all other possible energy purchaser, which it has not used in its own favour.
In a two pages interview with newspaper Morgunblaðið today – free from even a single comment from an environmentalist or other critical perspective – Tómas Már Sigurðsson, Alcoa's director in Iceland, does not admit that the actual energy uncertainty, addressed by environmentalists and the National Planning Agency, has been the company's main hindrance. Tómas, however, hints at it when stating that Alcoa has from the start been clear about its thirst for more then 400 MW, given that more than that can be harnessed in the North.
Tómas also says that the price that Landsvirkjun wants for the energy is not "competitive" – or in other words: too high. For the last year Landsvirkjun has been heavily criticized for prizing its energy seriously low, mapping Iceland out as a cheap energy haven for the aluminium industry, which makes it especially interesting that now Alcoa – an international corporation and of the world's biggest aluminium producers – claims it cannot pay for Icelandic energy.
Now, as Alcoa's dream of a smelter in Bakki is over – after six years process, including an investment of two billion ISK (17,3 million USD) – Tómas says that the company will continue its plans of further projects in Quebec, the New York state, Norway and Saudi Arabia. Also, as repeatedly reported by Saving Iceland, Alcoa recognizes Greenland as its next Iceland, from a social and economic perspective – i.e. easy exploitable society and cheap energy – and plans to build at least a 400 thousand ton smelter there in the nearest future.
Albeit the clear fact that Alcoa's withdrawal from Bakki does not manifest the company's worldwide decrease in operations, it surely marks a milestone in the struggle against the aluminium industry – not only in Iceland, but also worldwide. More on that later.
_____________________________________
See also:
Alcoa in Greenland: Empty Promises? by Miriam Rose
Alcoa: Where Will the New Dams be Built? by Jaap Krater
Greenland's Decision: Nature or Culture? by Miriam Rose