Aug 14 2010
2 Comments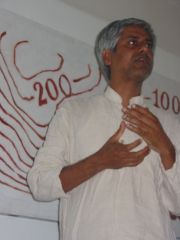 The Indian author, filmmaker and activist, Samarendra Das, will be in Iceland from August 14th to 21st. This is the second time that he comes here in collaboration with the environmental movement Saving Iceland. The occasion this time is the recent publishing of his and Felix Padel's book,
Out of This Earth: East India Adivasis and the Aluminium Cartel
, which is published by Orient Black Swan and could be refered to as the "black book" of the aluminium industry. Samarendra will have a talk and presentation on his book, in the Reykjavík Academia, Hringbraut 121, on Wednesday August 18th at 20:00. More talks will take place in other place around the country while Samarendra is here and will be advertised later.
For the last decade, Samarendra has been involved with the struggle of the Dongria Kondh tribe in Odisha, India, against the British mining enterprise Vedanta, which plans to mine bauxite for aluminium production on the tribes' lands – the Niyamgiri hills. The struggle has gained strength lately and for example, many official parties have sold their shares in Vedanta on the grounds that the company does not live up to expected demands about respect to human rights and local communities. Samarendra's part in this can not be undermined, but he has written hundreds of articles, published and edited books, and made documentaries about the struggle and related issues. The new book, Out of This Earth, can be called the "black book" of the aluminium industry, since it addresses all the dark sides of the industry. In a press release from the publisher, Orient Black Swan, this says e.g. about the book: Read More