Oct 26 2008
3 Comments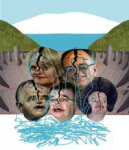 Jaap Krater, Morgunblaðið, 26-10-2008
In times of economic crisis, it is tempting to embrace new megaprojects such as new power plants and aluminium smelters. But will this realistically improve Iceland's economic prospects?
Prime minister Geir Haarde recently explained on Stöd 2's chat show Mannamál that one of the main reasons for the fall of the Krona, was due to the execution of heavy industry projects: the construction of Kárahnjúkar and Alcoa's smelter in Reyðarfjörður. If more large projects are executed, what will the cost be for the Icelandic taxpayer?
Haarde's comments were not surprising. Before construction of Kárahnjúkar many economists predicted the negative impact on inflation, foreign debt and the exchange rate of the ISK.
Of course there is some economic benefit from new smelters, but "it is probably outweighed by the developments' indirect impact on demand, inflation, interest rates and the ISK exchange rate," stated a report by Glitnir in 2006 on the impact of aluminium expansion in Iceland. The report expected an increase in inflation and a depreciation of the ISK.
"Kárahnjúkar will never make a profit, and the Icelandic taxpayer may well end up subsidising Alcoa," said the eminent economist Thorsteinn Siglaugsson after publishing another report on the profitability of the Alcoa dam in East Iceland before construction commenced. Read More