Nov 05 2011
2 Comments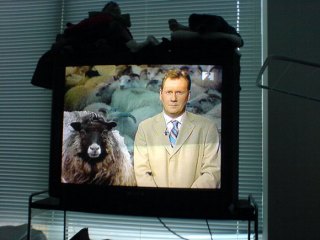 By Snorri Páll Jónsson Úlfhildarson, originally published in The Reykjavík Grapevine.
Those who are yet to give up on Icelandic media cannot have avoided noticing one Kristján Már Unnarsson, a news director and journalist at TV station Stöð 2. Kristján, who in 2007 received the Icelandic Press Awards for his coverage of "everyday countryside life", is a peculiar fan of manful and mighty constructions and loves to tell good news to and about all the "good heavy industry guys" that Iceland has to offer.
To be more precise, Kristján has, for at least a decade (and I say "at least" just because my memory and research doesn't take me further back), gone on a rampage each and every time he gets the chance to tell his audience about the newest of news in Iceland's heavy industry and energy affairs. He talks about gold-mills when referring to dams built to power aluminium production; and when preparing an evening news item on, say, plans regarding energy and aluminium production, he usually doesn't see a reason for talking to more than one person – a person who, almost without exception, is in favour of whatever project is being discussed.
After witnessing Kristján's latest contribution to the ongoing development of heavy industry and large-scale energy production, i.e. his coverage of Alcoa's recently announced decision not to continue with its plan of building a new aluminium smelter in Húsavík, wherein he managed to blame just anything but Alcoa itself for the company's decisions, I couldn't resist asking (and, really, not for the first time): What can really explain this way too obvious one-sidedness, manifest not only in this one journalist's work but seemingly the majority of news coverage concerning heavy industry? Read More