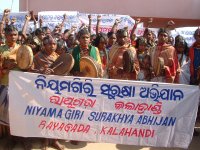 INDIA – Farmers in Hirakud, Orissa are protesting against the Hindalco aluminium smelter plant for emitting poisonous gas, which has damaged their paddy crops spread across 113 acres of land. They have also demanded immediate compensation from the factory management. In an early morning in September farmers in Nuagujatal and Gundurupada village near Hindalco aluminium smelter plant in Hirakud NAC of Sambalpur district, found that their paddy crops had turned from green to yellow. They were surprised to see the change happening so quickly, overnight, and when they looked around similar symptoms were noticed in the trees.
The yellowing had been a regular phenomenon in the area, which occurs every year. This time the factory had released noxious emission, mostly fluoride wastes, when there was a heavy downpour. With the rain water the fumes became toxic rain and damaged the crop, allege agricultural scientists.
The Hirakud farmers and villagers protested against the factory management and district administration and demanded immediate enquiry by experts into the incident. Accordingly, the samples were taken by the Orissa State Pollution Control Board, District Agriculture Office and Environmental Science Department of Sambalpur University.
Meanwhile, the farmers association had given October six as a deadline to the company and district administration to consider their demands for compensation. The factory management says it will pay Rs 10,500 (165 Euros) per acre as compensation and says it will take preventive measures to avoid such hazardous gas leaks in future.
However, this is not the first time such an incident took place. In 2003, the local farmer association also revolted against the Hindalco aluminium smelter holding it responsible for damage from pollution. The protest continued for nearly three months. Finally, the factory was forced to provide compensation to the farmers.
A similar incident also took place with the Nalco smelter in Angul, Orissa in 2005.
Smelter emissions

| | |
| --- | --- |
| Type | Effect |
| Hydrogenfluoride | Lung, bladder, pancreatic cancer, bone deformity, teeth decay, and necrosis in plants |
| Sulphurdioxide | Respiratory problems, foul odour, corrosive to buildings, acid rain, necrosis in plants |
| Perfluorocarbons | Highly potent greenhouse gas |
| Nitrous oxide | Acid rain, greenhouse effect |
| Benzene | Carcinogenic, teratogenic |
| Polychlorinated biphenyls (PCBs) | Highly persistant in soils, accumulates in animals, skin disorders, menstrual disorders, immune defficiencies |
The smelting process produces between 0.5 kg fluoride waste per tonne of aluminum in the best plants, up to four kg per tonne of aluminum in older designs: perfluorocarbons and hydrogen fluoride as gases, and sodium andaluminum fluorides and unused cryolite as particulates. The Hirakud plant produces approximately 150.000 t of waste per annum.