Jun 20 2005

Answers to common questions about the 'skyr action' at Hotel Nordica 14 June, 2005.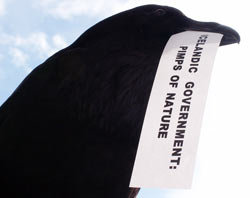 * It was a conference for aluminium and the related industry leaders from all over the world.
* They were here because they think Iceland is right for heavy industrial development. Ironically, this is down to its clean environmental record.
* The people gathered there were key decision makers, financiers and policy drivers behind the Karahnjukar project and other heavy industry developments across Iceland which we oppose.
* A session entitled "An Approach to Sustainability for a Greenfield Aluminium Smelter" started at 11:45 on the day. Hosted by Joe Wahba of Bechtel Corporation and T.M. Sigurdsson of Alcoa, the outrageous hypocrisy of the seminar was extremely provocative to those who truly aspire to the ecological value of sustainability. Read More