Sep 18 2008
1 Comment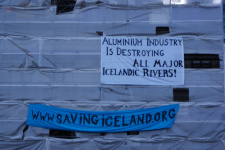 Today we received a letter from Denmark:
This morning, big banners were hanged on a building in Copenhagen saying: ,,Aluminium Industry is destroying all major Icelandic rivers!" A big advertisment from Icelandair Airline Company, showing Icelandic rivers, was hanging on this same wall last week.

The construction of the planned new Century aluminium smelter in Helguvík and Alcoa's smelter in Húsavík, will lead to damming of more glacial rivers and geothermal areas. Today it looks like dams will be built in Þjórsá River, Tungnaá, Skjálfandafljót and Jökulsá á Fjöllum; only for further heavy industry projects.