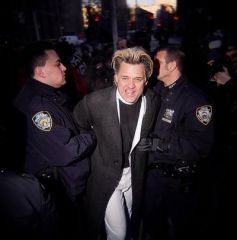 Our good friends, Reverend Billy and Savitri D, from the Church of Life After Shopping!, are about to release a book that covers the last few years of their work, includes campaigns in NYC and around the world, including Iceland, organizing they have done with many of you and stories from the field. The book, titled
The Reverend Billy Project: From Rehearsal Hall to Super Mall with the Church of Life After Shopping
, will come out this summer and on June 13th, Reverend Billy, Savitri D. & The Stop Shopping Gospel Choir will perform "radical fun, fresh musical offerings and damn the mono culture polemics" in Housing Works Bookstore & Cafe, New York.
In July 2007 Reverend Billy and Savitri D joined Saving Iceland's international conference, titled Global Consequences of Heavy Industry and Large Dams, which Billy presided. A few days later Billy, Savitri and Saving Iceland exorcised heavy industry in Iceland during a ceremony in shopping mall Kringlan, Reykjavík. A year later Billy sent Saving Iceland a letter, inspired by his participation in 2007, which can be read here.
In a press release from University of Michigan Press, the new book's publisher, says:
Reverend Billy, the revivalist preacher created by performance artist Bill Talen, has attracted an international following as he has railed in white suit and clerical collar against the evils of excessive consumerism and corporate irresponsibility. In his early solo performances in Times Square he delivered sermons by megaphone against Starbucks and the Disney Store; as his message and popularity spread, he's been joined by a 35-member choir (the Life After Shopping Gospel Choir) and a 7-piece band. The group's acclaimed stage show and media appearances (including a major motion picture, What Would Jesus Buy?) have reached millions.

The Reverend Billy Project presents backstage accounts of recent performance actions by Reverend Billy and the troupe's director, Savitri D, recounting their exploits on three continents in vivid narratives that are engaging, shrewdly analytical, and at times side-splittingly funny. We watch as the group plans invisible theater interventions in Starbucks, designs a mermaid hunger strike to thwart gentrification plans for Coney Island, and makes an extended effort to preserve the public nature of New York's Union Square. We follow them to an action camp in Iceland and a flop of a show redeemed by a successful impromptu demonstration in a Berlin shopping mall. As thoughtful as they are funny and inventive, Reverend Billy and Savitri D's story-essays bring to life a playful yet sincere new form of political theater.
Like said before, the book release party will take place on June 13th at 7:00 PM, in Housing Works Bookstore & Café, 126 Crosby Street, New York City, NY.
Read more about Reverend Billy and the Church of Earthalujah! here.
The videos below are from Billy and Savitri's visit in Iceland; the first one is a TV news-clip from the ceremony in Kringlan, the second and the third are from the above mentioned conference in July 2007.