Oct 19 2008
1 Comment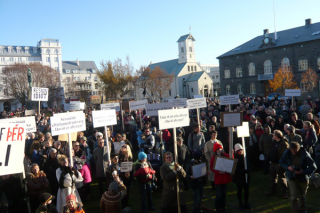 For the last two weeks Iceland has been facing economic crisis, the worst since 1914. The Icelandic Króna (ISK) has fallen lower than ever and the whole economy seems to be close to a total collapse. How did this start and how does it look now?

The collapse of Iceland's bank system
The morning of September 29th was the beginning of the crisis for the Icelandic public, when it was announced that the State and Glitnir, one of the tree big banks of Iceland, had come to an agreement that the State would buy 75% share in the bank. Signs of economic crisis have been visible for quite a long time in Iceland; economics and leftists have been warning the Government, but until September 29th, the Government and the Banks have repeatedly ignored these warnings and stated that everything is fine. According to Iceland Review "the state is not planning to be a majority owner in Glitnir long-term; the purpose with these actions is to secure economic stability." At this time Glitnir had lost c.a. 85% of its share value when the stock market closed Friday September 26th.