Jul 16 2011
1 Comment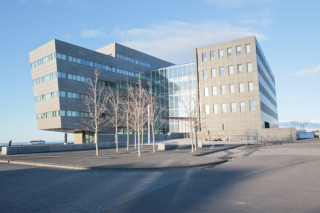 By Anna Andersen, photos by Alísa Kalyanova. Originally published in The Reykjavík Grapevine.
Overrun by Viking ambition, Reykjavík Energy built headquarters fit for Darth Vader, expanded ambitiously, dabbled in tiger prawn farming and flax seed production, went into the fibre optics business, invested in a new geothermal plant, speculated in places like Djibouti, and finally managed to run itself so completely into the ground that foreign investors will no longer offer the company loans.
In hopes of rescuing its multi-utility service company from the depths of abyss, the city of Reykjavík stepped in this March with a 12 billion ISK (105 million USD) loan, which is nearly its entire reserve fund set aside for the company, but still only a fraction of the company's massive foreign debt of 200 billion ISK (1.7 billion USD).
With thousands of captive lifetime subscribers and a means of producing energy at very little cost, the company had all the makings of a cash cow. So what happened to Reykjavík Energy, an entity that less than a decade ago was a perfectly viable, municipally owned company providing the city with basic utilities: cold water, hot water and electricity? Read More