Dec 10 2011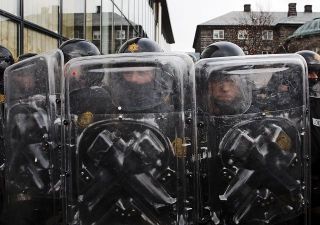 By Snorri Páll Jónsson Úlfhildarson.
Originally published in the Reykjavík Grapevine.

Criminal court cases, waged by The State against political dissidents for acts of protest and civil disobedience, can be understood in two ways. Firstly, the juridical system can be seen as a wholly legitimate platform for solving social conflicts. Such a process then results with a verdict delivered by Lady Justice's independent agents—a ruling located somewhere on the scale between full punishment and absolute acquittal. According to this view, it is at this point only that a punishment possibly enters the picture. And only if deserved.
Secondly—and herein lies a fundamental difference—the original decision to press charges can be seen as a punishment in itself, regardless of the final verdict. With these two points of understanding in mind, two recent verdicts, which have not received much attention, are worth observing.
You Shall Not Run
Number one is the case against Haukur Hilmarsson and Jason Slade who in June 2008, while attempting to stop an airplane from departing, and thereby deporting Kenyan asylum seeker Paul Ramses to Italy, ran onto a closed-off area at the Leifur Eiríksson International Airport in Keflavík. To shorten a long and complicated story (covered in-length here) their political sprint snowballed into protests of all kinds, eventually bringing the asylum seeker back to Iceland, where he and his family were granted an asylum. Read More